Intersex Awareness Day Resources
interACT has compiled these resources to help raise awareness. Please share!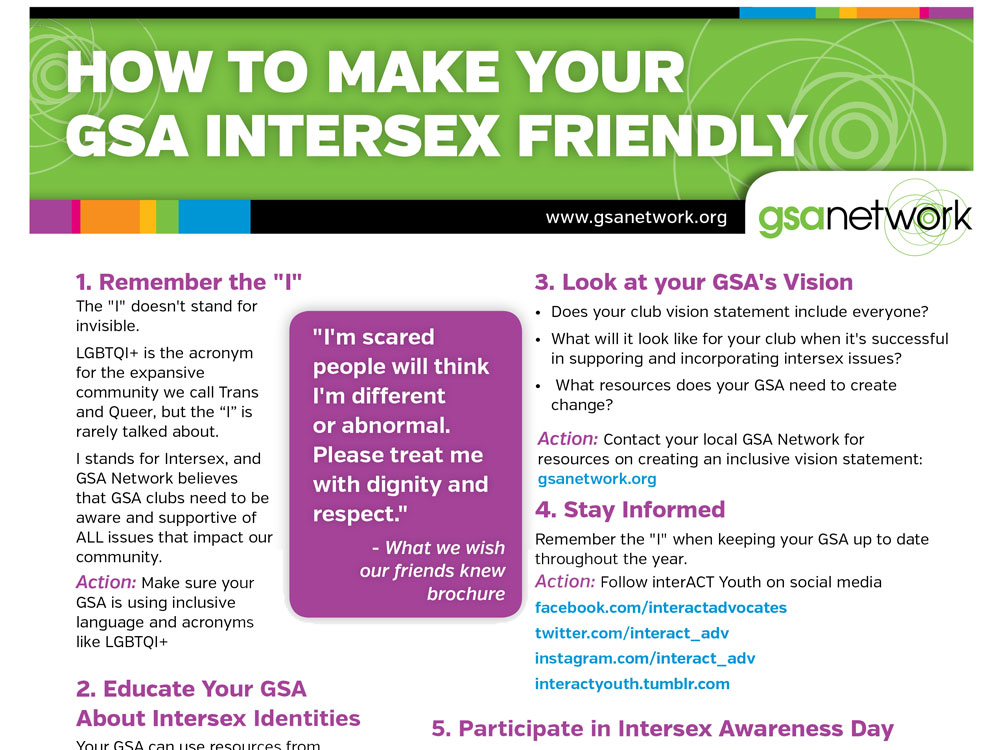 The Genders & Sexualities Alliance Network, in collaboration with our interACT Youth Program, published a resource guide on How to Make Your GSA Intersex Friendly. This two-page guide lists five direct actions GSAs can take to become more Intersex friendly and provides supporting information and links to online resources to help them do so.
interACT worked with Buzzfeed to create the "What it's like to be intersex" video, which now has over 3 million views. It is a great introductory video for learning about being intersex. The video features interACT Youth members and has been used in workshops and trainings across the globe including the United Nations.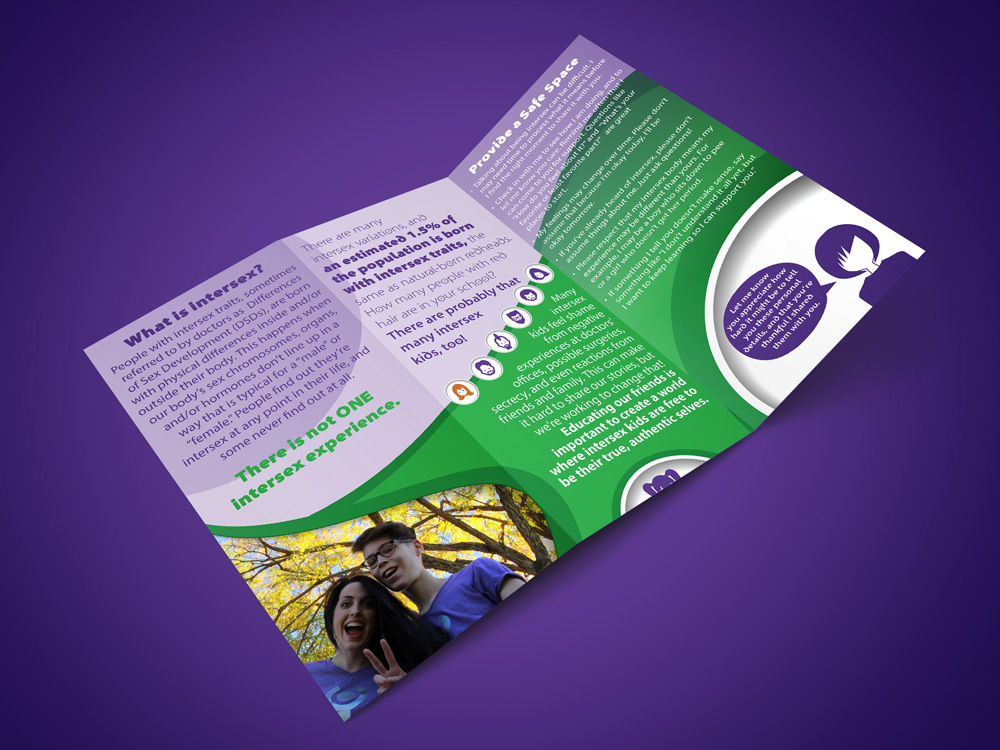 The What We Wish Our Friends Knew brochure was created by interACT Youth members who wanted a resource to help their friends know that there is not ONE intersex experience. The brochure shares how to provide a safe space, respect the privacy and support the emotions of an intersex friend. Other intersex brochures can downloaded from this link as well.

In 2016 in recognition of the 20th anniversary of Intersex Awareness Day,
interACT: Advocates for Intersex Youth joined together with the signatories of the attached resolution, including over twenty international intersex-led organizations, calling for intersex people to have control over their medical decisions, to be free from medically unnecessary interventions, and to have access to psychological and peer support.
U.S. Department of State
In Recognition of Intersex Awareness Day
Intersex Awareness Day, the United States stands in solidarity with intersex persons around the world.
We recognize that intersex persons face violence, discrimination, stigma, harassment, and persecution on account of their sex characteristics, which do not fit binary notions of typical male or female bodies.
Intersex persons routinely face forced medical surgeries that are conducted at a young age without free or informed consent. These interventions jeopardize their physical integrity and ability to live free.
Celebrating Our Intersex Youth
One of interACT's most effective tools in the fight to protect intersex children has become our youth program. We empower and engage young ​intersex ​people in ​awareness ​raising while helping them to develop leadership and advocacy skills.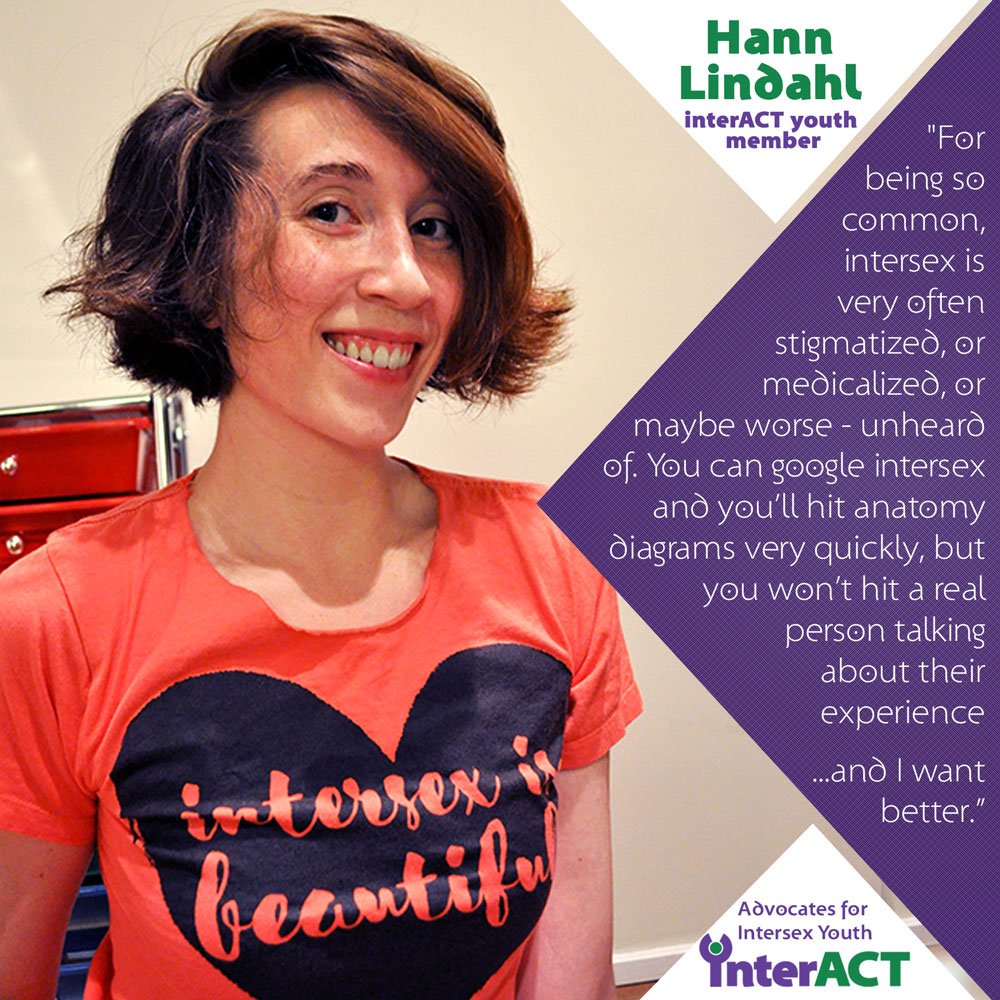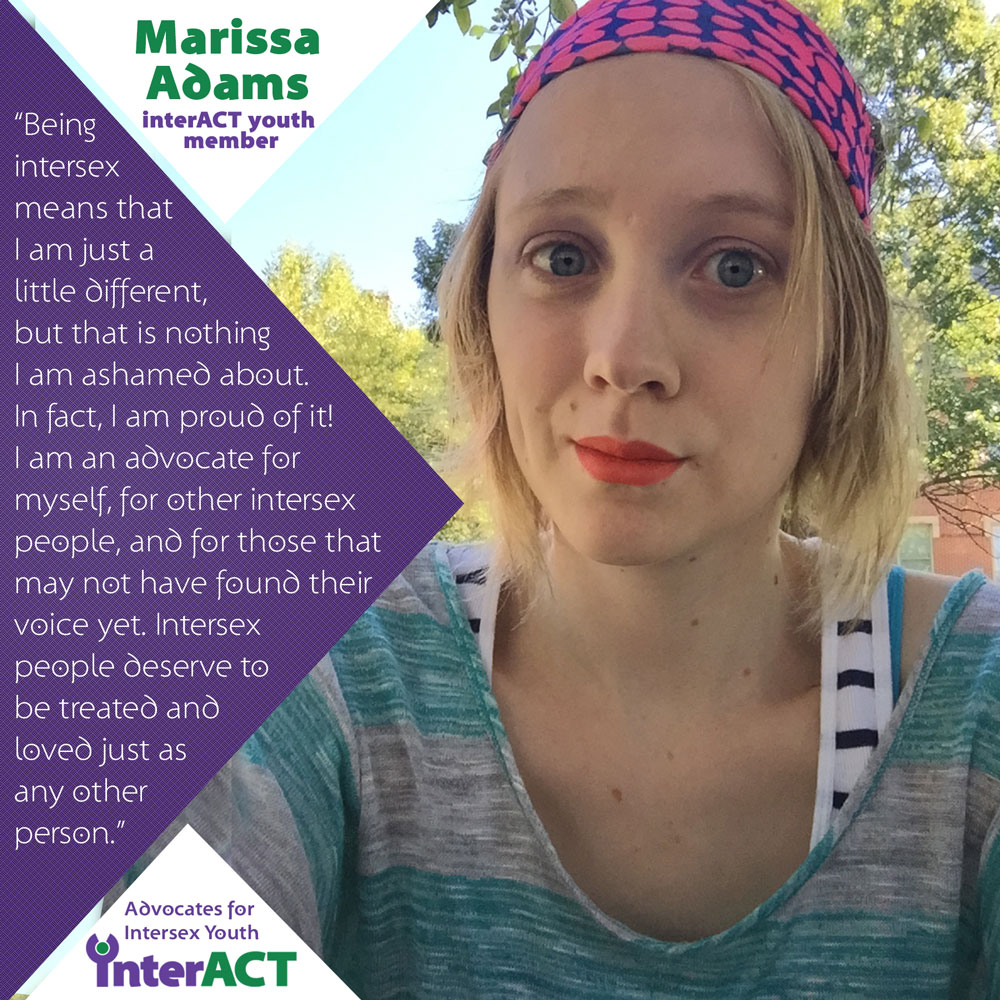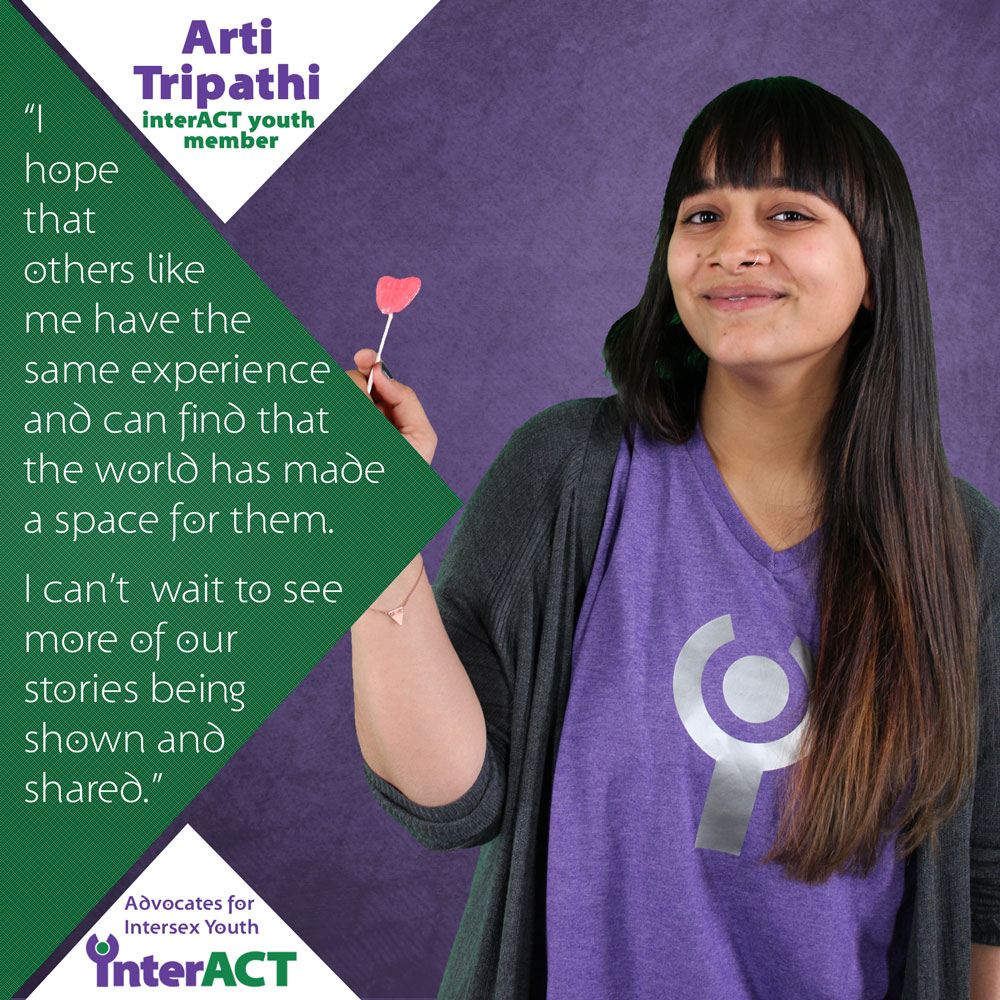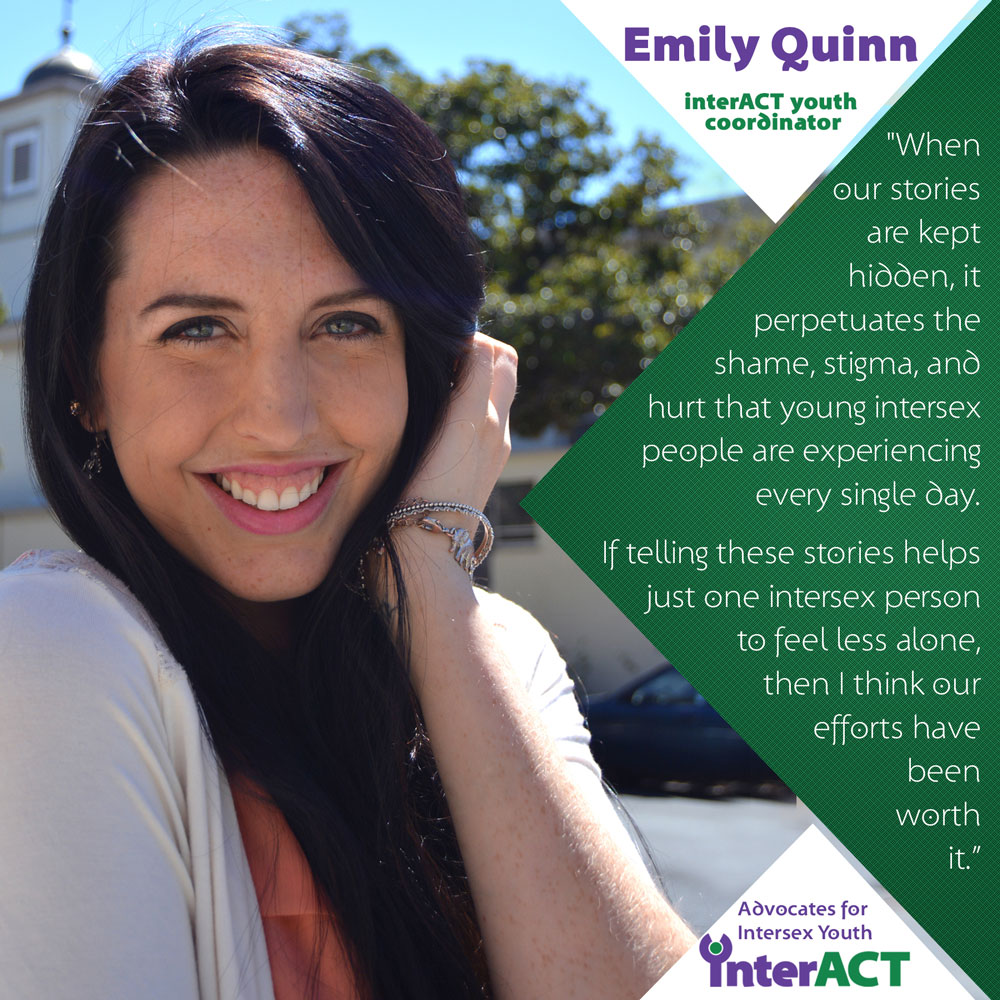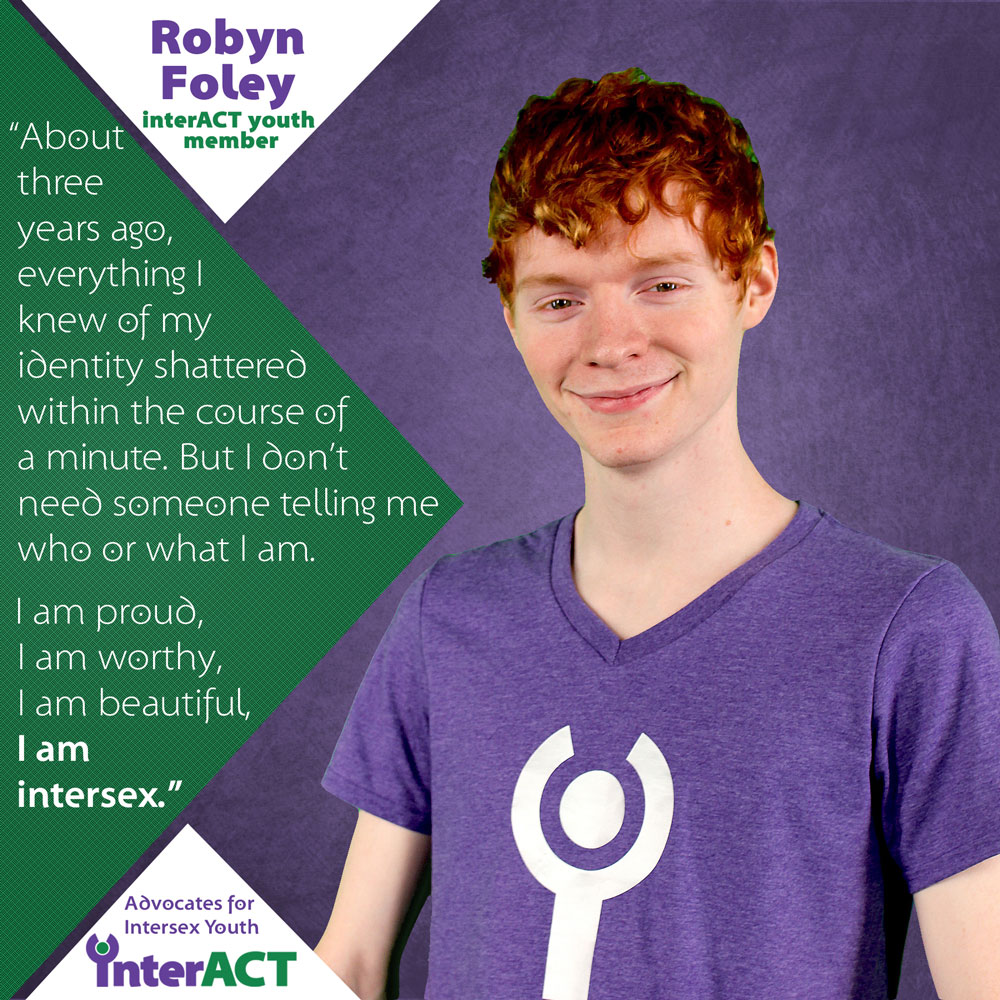 We Are Here: Intersex Youth
an Intersex Awareness Day Video by IGLYO
The International Lesbian, Gay, Bisexual, Transgender, Queer and Intersex Youth & Student Organization (IGLYO) created a video for Intersex Awareness Day.  This video features Five young intersex individuals, including interACT Youth Coordinator Emily Quinn, speaking about their own experiences to increase the visibility of intersex youth and reduce isolation by reaching out to others on Intersex Awareness Day 2016.
IGLYO is working towards a world where young people are able to express and define their own sexual orientation, gender identity and gender expression and sex characteristics without discrimination, violence or hatred.  IGLYO is a pan-European network, working with over 95 LGBTQI youth and student organizations.
The video was commissioned by IGLYO, in partnership with OII Europe and interACT.
Are you an intersex youth in your teens or twenties?
Stay Informed! Join Our Mailing List