Anne Tamar-Mattis Advocacy Award for Intersex Allyship
The Anne Tamar-Mattis Advocacy Award sets the bar for intersex allyship. Established in 2017 in recognition of interACT's founder, Anne Tamar-Mattis, the award is intended to recognize and honor outstanding allies of the intersex community for their support and advocacy on behalf of intersex youth. Support from a variety of fields and perspectives is integral to the success of the intersex movement. Award nominations are made by interACT as appropriate in recognition of tremendous contribution to the fight for intersex rights.
2021 Awardee: Kyle Knight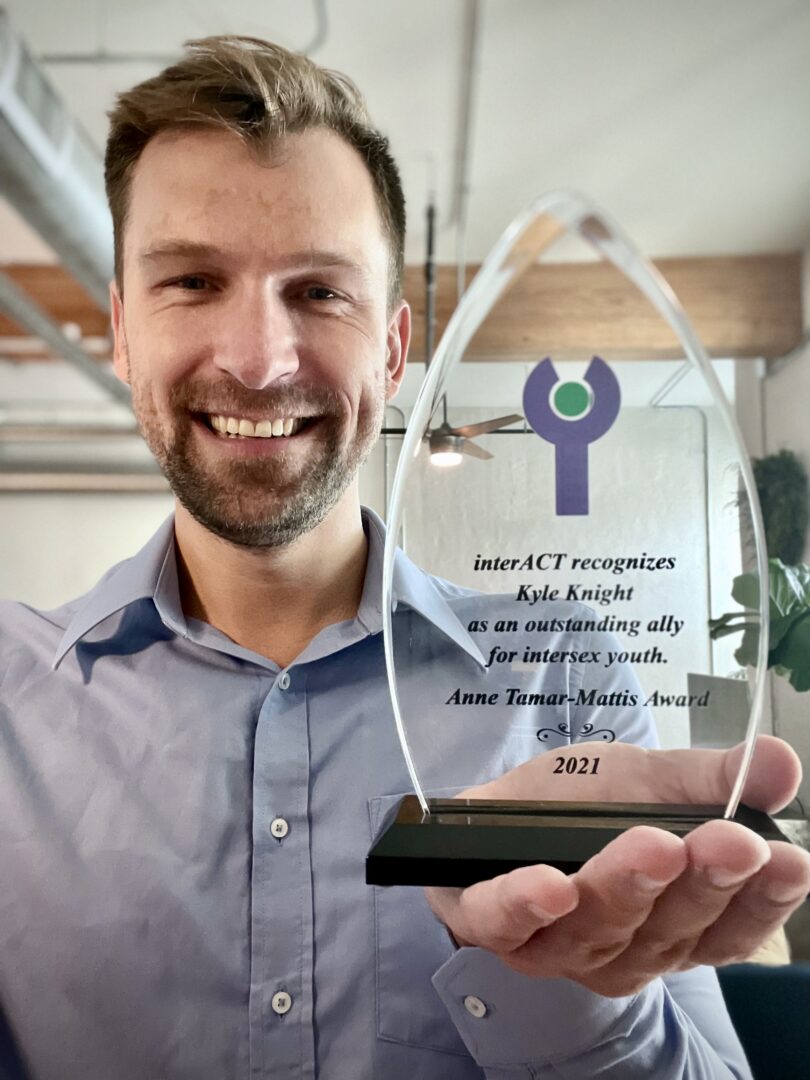 Kyle Knight of Human Rights Watch has demonstrated an unwavering commitment to advancing intersex rights and at many moments Kyle has greatly strengthened interACT by lending us his many skills and talents. For the past five years, Human Rights Watch has partnered with interACT to document harms intersex people face when they are subjected to medically unnecessary surgeries. Kyle has continued to be a major ally, continuing to advocate for intersex bodily autonomy and informed consent whether it be directly advocating with interACT in government, healthcare and other settings, or informing and educating media.
2020 Awardee: Lois Whitman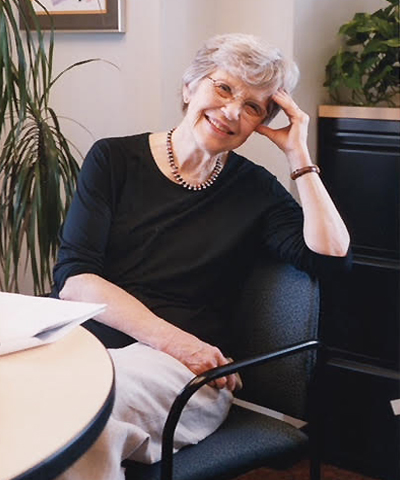 Lois is a renowned children's human rights activist whose writing has appeared in The New York Times, The Washington Post, and Newsday. In 1994, she founded the Human Rights Watch's Children's Rights Division where served as Director until 2012 and remains a senior advisor. This division investigates human rights abuses of children around the world, including working to document and advocate against medically unnecessary surgical procedures when they can be safely deferred. Lois has testified before the United Nations Committee on the Rights of the Child and U.S. Congressional committees.
2019 Awardee: Carter Covington
Carter Covington is a Hollywood screenwriter and producer who was the show runner of Faking it!. The MTV series included the first recurring intersex main character on TV, and included the first intersex actor playing an intersex character on TV—our youth member Amanda Saenz. From 2014-2017 interACT youth and staff worked with Carter and his team to ensure accurate and respectful intersex representation. Carter has continued to be a major supporter of interACT and promotes further representation in film and on TV.

2018 Awardee: Senator Scott Wiener, JD
The 2018 Anne Tamar-Mattis Award for outstanding intersex allyship is California State Senator Scott Wiener (D-San Francisco). Senator Wiener co-authored California's SCR-110, the first legislation in the U.S. to acknowledge the harms of non-consensual medical interventions on intersex children. The Senator is a long-term champion for LGBTQ+ rights, and became a champion for the intersex community as well, with the Senator and his staff putting in long hours to educate those in Sacramento and pass SCR-110. Thank you, Senator Wiener, for fighting for us in the California Senate and beyond.
In Senator Wiener's honor, interACT has planted a tree in his favorite neighborhood park, Noe Valley Town Square park in the Castro, San Francisco, where he has been a resident for over twenty years.
2017 Awardee: Anne Tamar-Mattis, JD
The inaugural Anne Tamar-Mattis Award went to the namesake herself, interACT founder Anne Tamar-Mattis. Anne, an attorney and the partner of an intersex person, founded interACT with the goal of protecting vulnerable intersex kids from the harms of unnecessary medical intervention. Her tireless efforts resulted in the creation and continued success of the largest and longest-lived organization in the U.S. dedicated exclusively to intersex advocacy.
Anne served as Executive Director for 9 years, and Legal Director for 2. Her allyship built our organization and our community's vision for overcoming shame and stigma, and we are forever grateful.