interACT Media works to respectfully
include the voices of intersex people in various media

to raise awareness about intersex issues.

We

consult

on various projects, providing expertise, information and real intersex stories.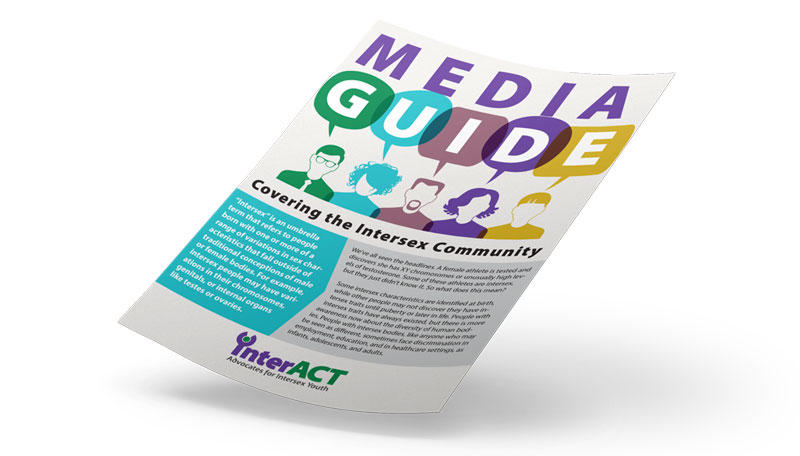 Media Guide: Covering the Intersex Community
This media guide is a great resource for members of the media looking to cover an intersex topic or issue.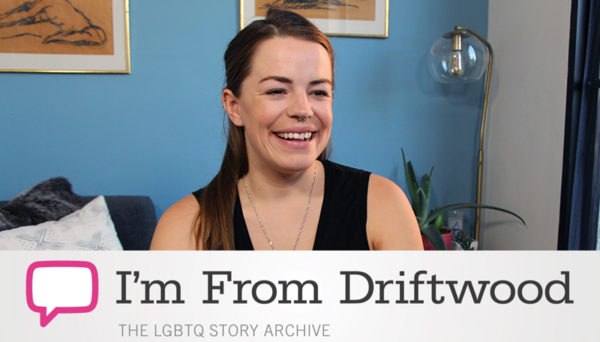 "I'm Maria… I Happen To Like Girls. I Happen To Be Intersex."
This video of interACT of member Maria Tridas was a collaboration between interact and imfromdriftwood. In the video Maria states, "Once you educate yourself about what it means to be intersex, you realize that it kind of relates to the larger picture of the world and that everything is so diverse and that humans are diverse, gender is diverse, it's all on a spectrum. When you give yourself the knowledge about who you are at your core, it allows you to build your outer shell, that person that you are presenting to the world in the most beautiful, honest and confident way."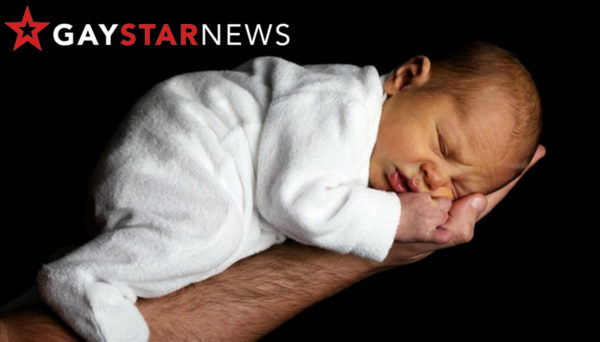 Here are the 7 biggest intersex myths busted
Large LGBT organizations don't cover intersex issues, but there is also need for visibility, and to change those hearts and minds. Gay Star News includes intersex in their coverage, as they believe in covering every sex and gender minority. This article addresses some of the many misconceptions about being intersex and acknowledges that the reason there are so many myths is that very few people outside of the intersex community know what intersex actually is. To help bust these myths, Gay Star News spoke with Kimberly Zeizelman, attorney, advocate and executive director of interACT and used interACT Youth media content to set the record straight.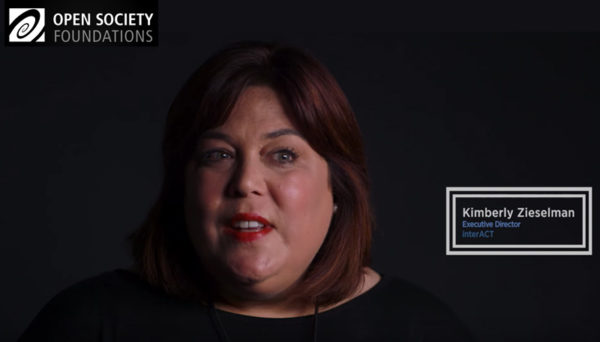 Intersex Children Don't Need Fixing
In this video, director of interACT Kimberly Zieselman shares her story and explains why visibility matters for intersex people and their families. She explains why interACT doesn't just work on changing laws or medical policies—it also focuses on changing the media.
interACT is a grantee of the Open Society Foundations. At Open Society is a video series highlighting the people and ideas that are inspiring our work—and changing the world.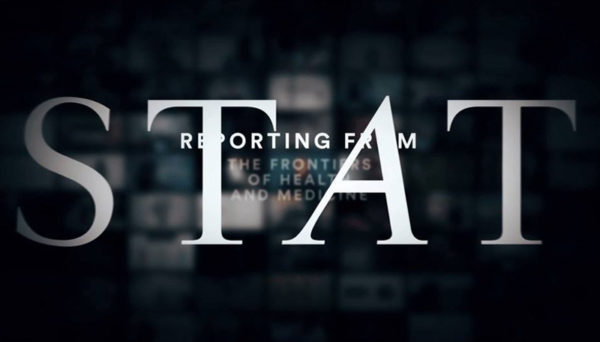 In the intersex community, we're desperate for quality care. Doctors aren't listening
interACT Executive Director Kimberly Zieselman explains why intersex rights advocates like herself are fighting to stop unnecessary and irreversible surgeries on healthy intersex kids too young to consent to them. In this article, she expresses that just because intersex rights advocates want doctors to delay unnecessary surgery on children doesn't mean they don't want more specialized intersex care. "What intersex people want from the medical community is for physicians to listen to us. We've been critical of medical practice, but we're not the enemy, and we need your help to fix the legacy of marginalization that leaves many intersex adults with unmet health care needs," states Zieselman.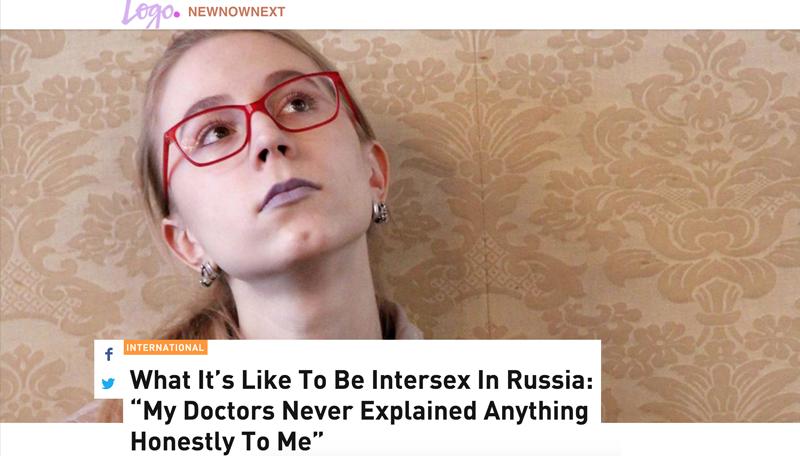 What It's Like To Be Intersex In Russia: "My Doctors Never Explained Anything Honestly To Me"
A Russian youth discovered she was intersex after watching interACT's BuzzFeed video "What It's Like To Be Intersex" Since learning the truth, she's become a champion for the intersex community both in Russia and globally. interACT Executive Director Kimberly Zieselman was quoted in this article by Logo's New Now Next, "We're not against surgery for people who opt to have it," Zieselman says. "We're just saying that unless surgery is medically necessary, we should let these children grow up with whatever healthy genital tissue they're born with, and let them make that decision for themselves when they're older."
The Intersex Rights Movement Is Ready For Its Moment
interACT worked with The Washington Posts for many months on this article that highlights several of our youth members.  The article states, "Instead of talking about intersex people as medical subjects, they are speaking the language of identity, human rights and pride. They want doctors, parents and society at large to take a less rigid approach to sexual identity — and especially to reconsider the assumption that, to identify as a man or a woman, a person needs the gonads, genitals and chromosomes to match."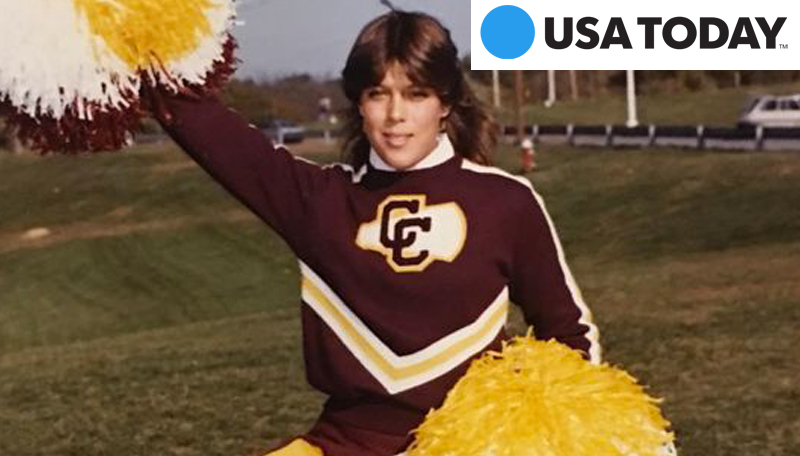 I was an intersex child who had surgery. Don't put other kids through this.
interACT Executive Director, Kimberly Zieselman wrote an opinion piece in USA Today advocating for the end of unnecessary intersex procedures. "It's not time for more data collection or dialogue; it's time for these surgeries to stop."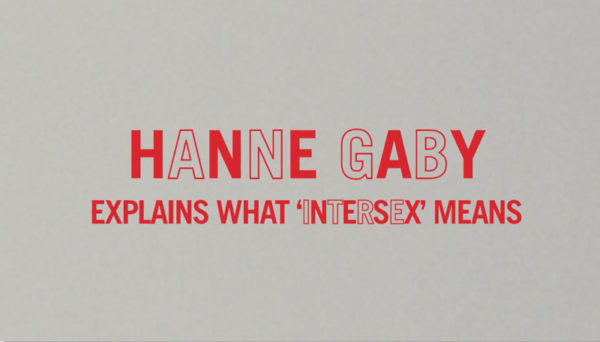 Hanne Gaby Odiele Explains How She Found Out She Is Intersex
In a video for Teen Vogue made with intersex youth advocacy organization InterACT, Hanne explains what being intersex means, and the journey she went through.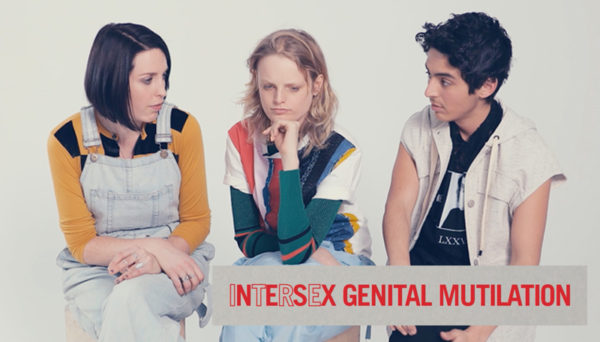 Why Intersex Genital Mutilation Needs to Stop
interACT consulted on this video by Teen Vogue that features three interACT Youth members: Hanne Gaby Odiele, Emily Quinn and Pidgeon Pagonis.  They talk about the human rights issue of intersex people across the world being subjected to genital surgery that aren't needed or consensual. They share how these surgeries cause trauma and perpetuate the unnecessary shame and stigma associated with being intersex.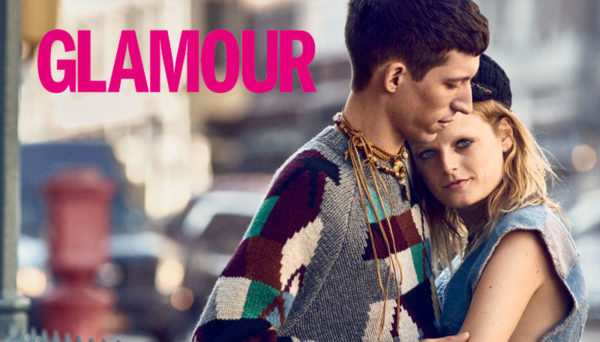 Model Hanne Gaby Odiele on Coming Out as Intersex: 'Sharing My Story Has Made Me Stronger'
Hanne was featured in this article by Glamour that focuses on the strength she has gained through sharing her story. The article states, "Odiele wasn't angry; she wasn't self-shaming. She talks about intersex in a way that was just another kind of "normal," and in doing so she is helping others come forward."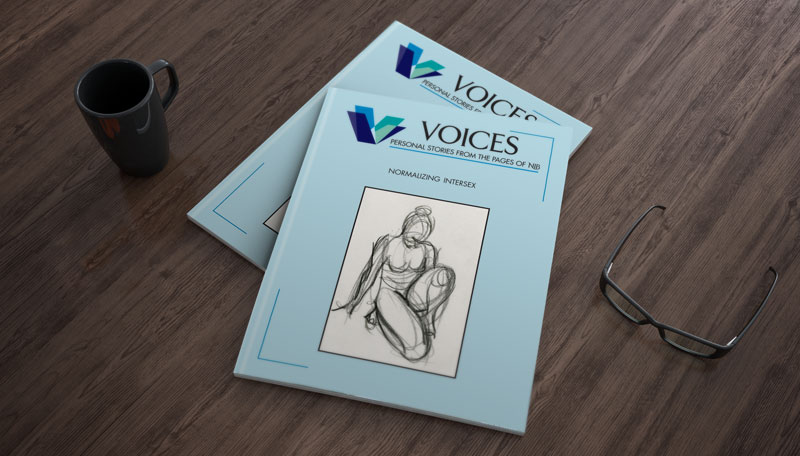 Normalizing Intersex
interACT consulted on the publication of "Normalizing Intersex" – a special edition of the Narrative Inquiry in Bioethics Journal published in partnership with the the Voices project.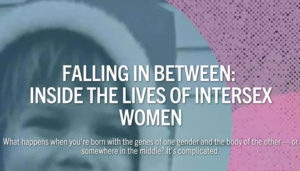 Good Housekeeping
interACT consulted with Good Housekeeping and provided them with several women to interview for the article titled "Falling In Between: Inside the Lives of Intersex Women."  The article explores What happens when you're born with the genes of one gender and the body of the other — or somewhere in the middle?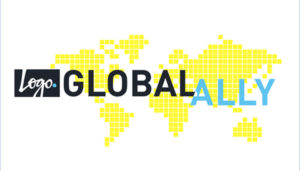 Logo's Global Ally Campaign
Logo's Global Ally campaign invited interACT to participate in the creation of an intersex page for their website. One of our interACT youth members, Axel Keeting, was featured in a video explaining intersex issues.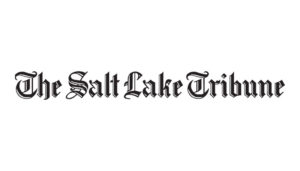 Salt Lake Tribune Op-ed
interACT Youth Coordinator Emily Quinn wrote a brilliant Op-ed for the Salt Lake Tribune titled "We are intersex people, and we don't need to be 'fixed' by surgeries."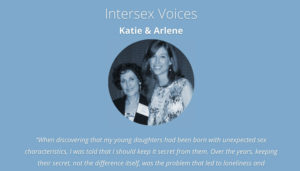 United Nations Free & Equal: Intersex Awareness
The United Nations is calling on governments and parents to protect intersex children from harm. On Intersex Awareness Day 2016, they launched an Intersex Awareness campaign that featured interACT staff, board and youth members.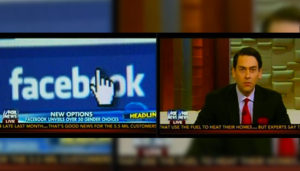 Fox News Apology
Outraged when Fox News reported Facebook's new user identity options including intersex, which an anchor mocked on air saying, "whatever that means," some interACT Youth sent an open letter to Fox News after which the same news anchor comment apologized on air.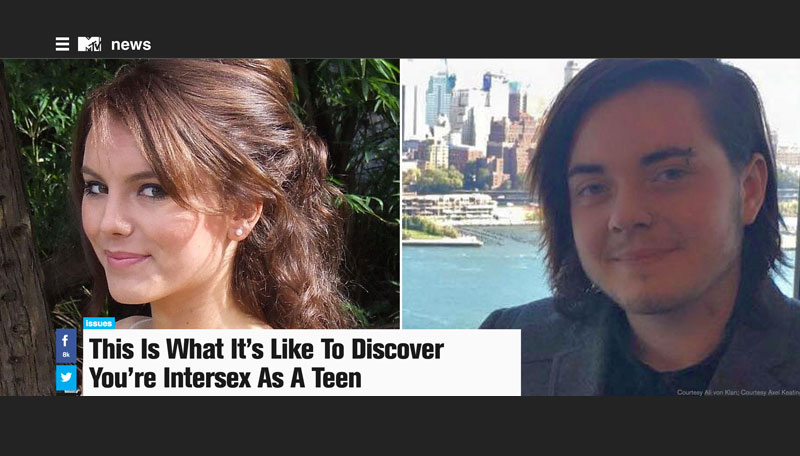 This Is What It's Like To Discover You're Intersex As A Teen
Two of our youth shared their stories with MTV News in honor of Intersex Awareness Day.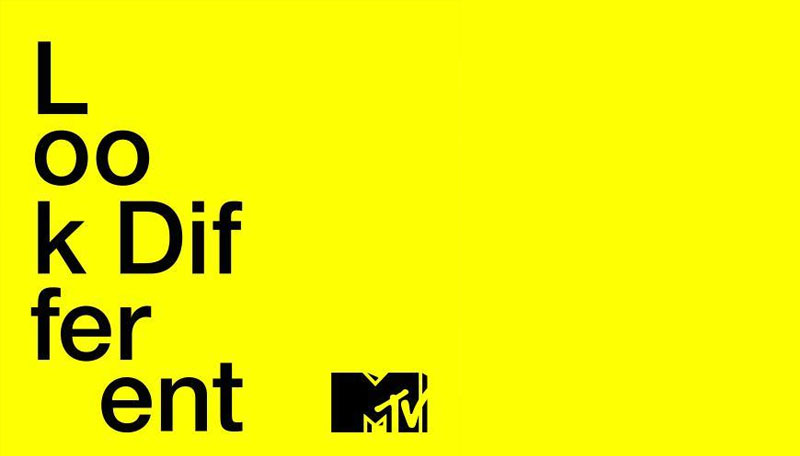 MTV's Look Different: What's it like to be intersex?
We connected MTV with one of our youth for this interview on what it is like to be intersex.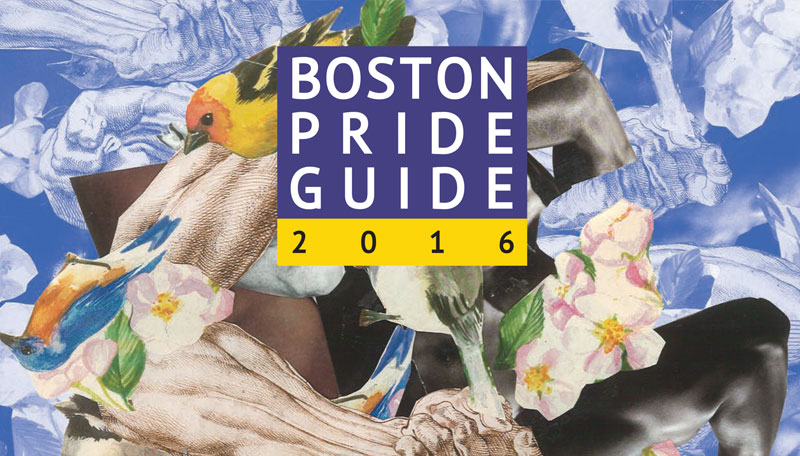 Intersex Article in Boston Pride Guide
interACT Executive Director, Kimberly Zieselman wrote an article for the Boston Pride Guide that covered many topics including how the LGBTQA community and intersex global rights movement are battling some of the same societal constraints associated with not fitting into narrow understandings about bodies and identities.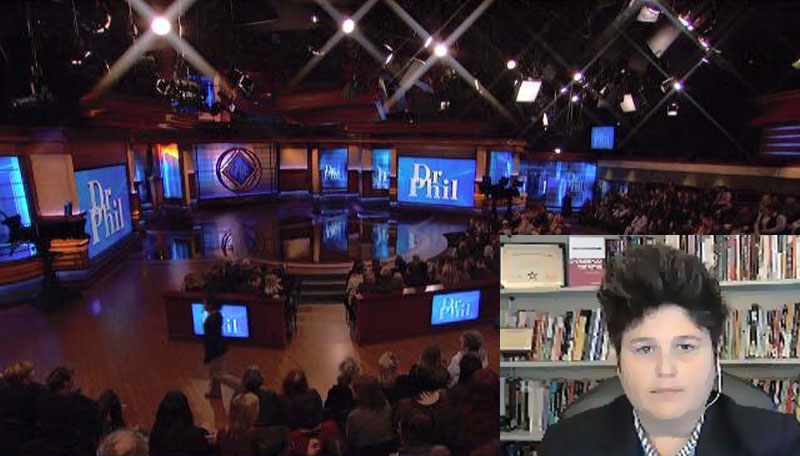 The Dr. Phil Show
Provided consult and an intersex expert for the November 30, 2015 Episode of The Dr. Phil Show.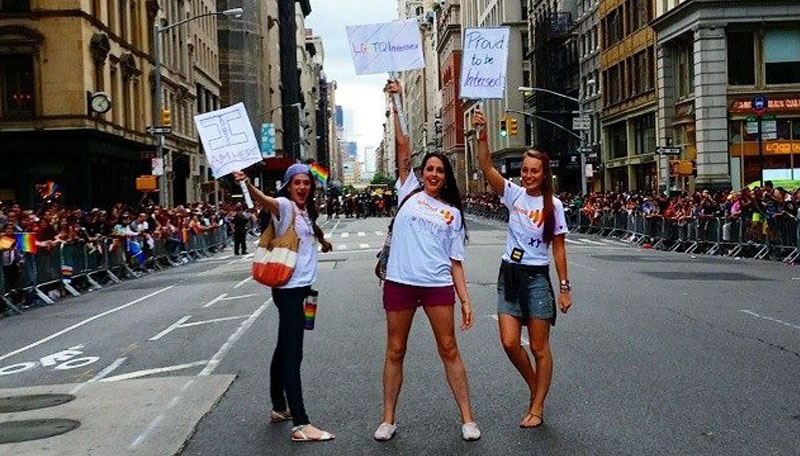 Everyday Feminism
Our youth worked with them to create a fantastic article published in March 2015 that shared "9 Ways Intersex Youth Want You to Support Them."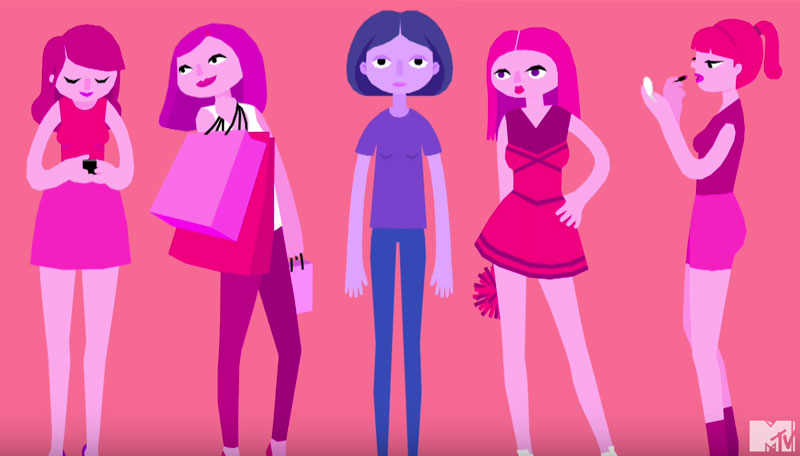 MTV Intersex Awareness Day Video
One of our youth shared her story with MTV for this Intersex Awareness Day animated piece.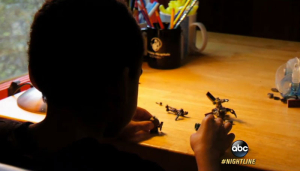 ABC Nightline
Worked for months with Nightline ABC on the production of Intersex Children: Journey Between Genders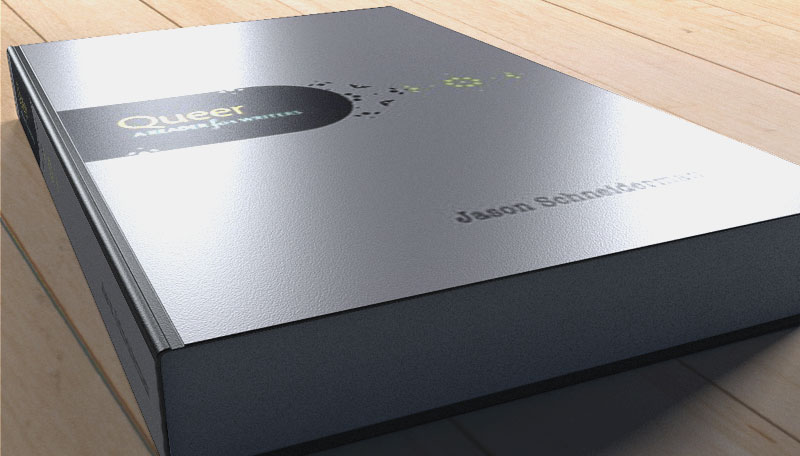 Oxford University Press
What is Intersex? FAQ written by InterACT Youth members was selected for publication in the Intersex Lives Chapter of Queer: A Reader for Writers, a college writing textbook published by Oxford University Press.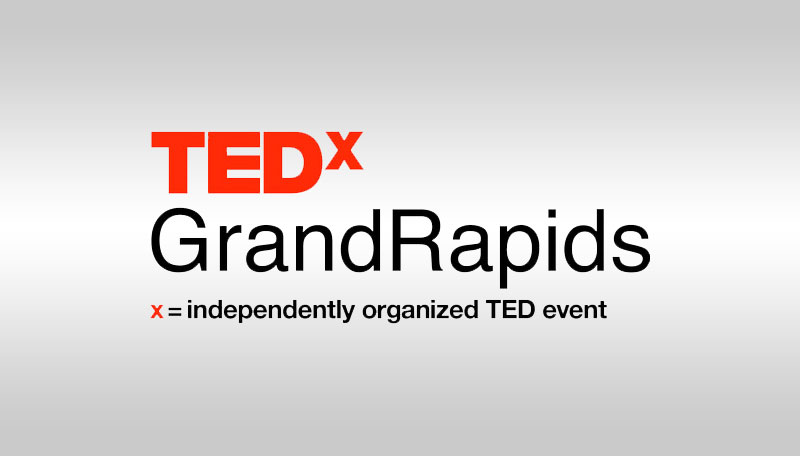 Tedx
Provided consult and an intersex speaker for the 2015 Tedx Grand Rapids, MI.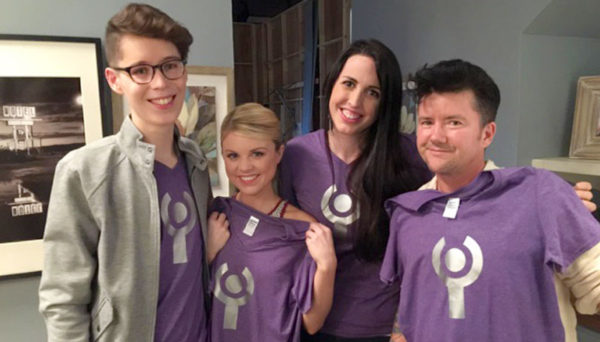 MTV Faking It
interACT provided consult for development of teen intersex character "Lauren Cooper" in Faking it season two and three, educated cast and crew about intersex, and regularly consulted producer and writers on scripts and story development. Our Youth Coordinator, Emily Q. was featured in a video with Bailey De Young.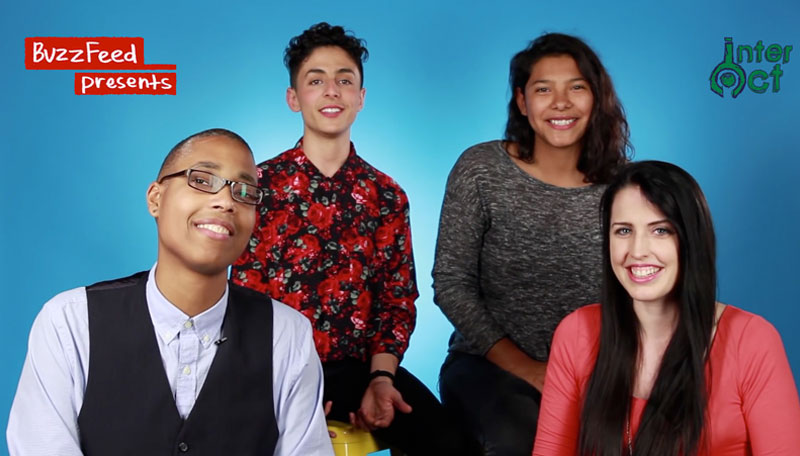 Buzzfeed
Worked with Buzzfeed to create the "What it's like to be interex" video with over 2 million views. The video has been used in workshops and trainings across the globe including the United Nations.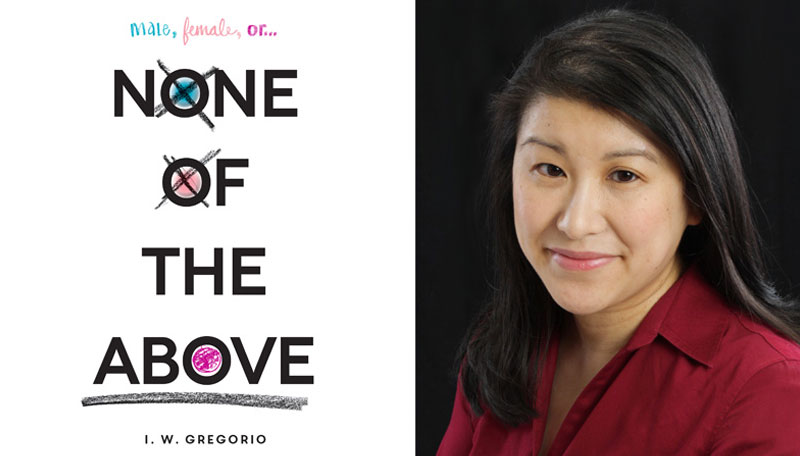 None of the Above
Consulted with author I.W. Gregorio on the development of the young adult novel, None of the Above, whose main protagonist is an intersex teen.