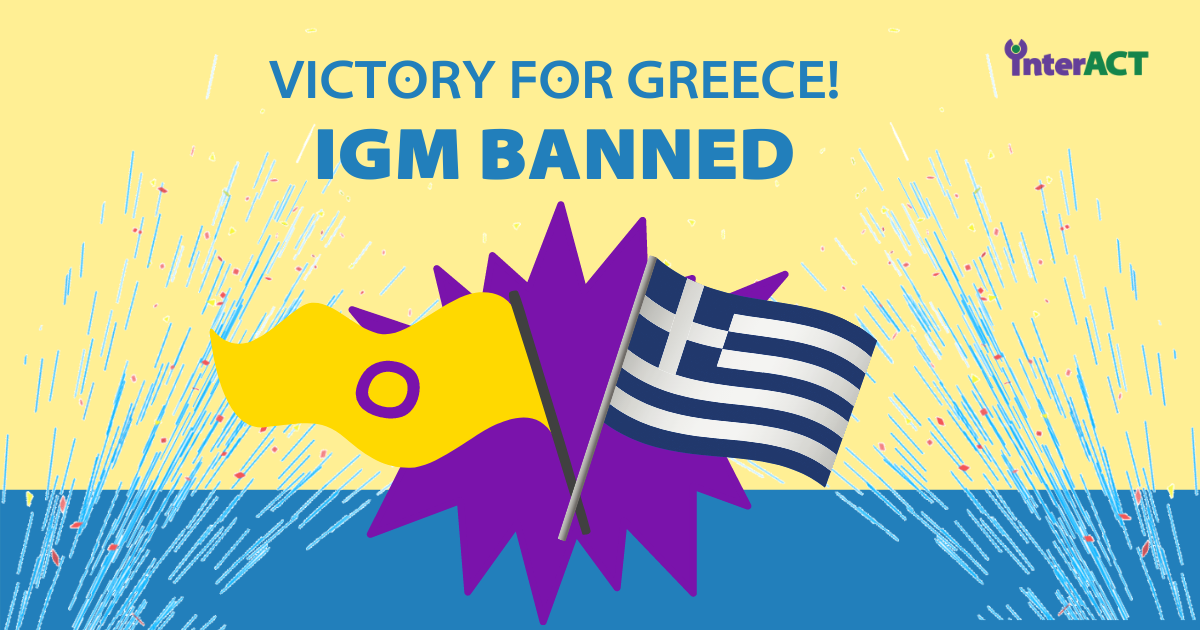 Greece has taken a momentous step for human rights by banning intersex genital mutilation, becoming one of the first countries to do so.
The new law prohibits surgeries to change intersex children's sex characteristics under age 15 unless urgently needed for health. It affirms bodily autonomy and the right to individual choice around surgery. 
Our friends at Intersex Greece have been at the forefront of this fight for historic intersex protections. "This bill is an excellent start for ensuring the well-being and free development of intersex children because it recognizes their right to bodily integrity, and finally, it emphatically affirms that Intersex Rights are Human Rights," they said in their press release.
Intersex children are subject to lifelong physical and psychological harms after unnecessary and non-consensual surgeries. These include chronic pain, sterilization, and PTSD. In addition, surgeries chosen on behalf of intersex infants may cement a sex assignment that ultimately doesn't align with the individual's gender identity.
Many intersex people will never want or need surgery to change their sex characteristics. For those who do, it is nearly always safer both physically and psychologically to wait until the individual is older and can consent.  
interACT previously submitted a letter of support explaining that the legislation would mark "extraordinary, tangible progress to curtail these harmful practices where other governments—including the USA—continue to struggle."
Everybody deserves the right to self-determination. Greece has now confidently taken this stance. interACT continues to press officials in the United States to take further steps to affirm intersex people's liberty and autonomy by protecting children's control over their own bodies.
interACT: Advocates for Intersex Youth is a nonprofit dedicated to advancing the legal and human rights of children born with intersex traits. Founded in 2006, interACT is the largest intersex-led intersex advocacy group in the world, brought the first successful piece of state legislation to address intersex human rights abuses, and regularly advises public and private entities on how best to support the needs of intersex youth and end unwanted childhood surgeries. For questions or requests, please contact info@interactadvocates.org.
P.S. You can contribute to the fight here in the US for the rights of intersex youth!