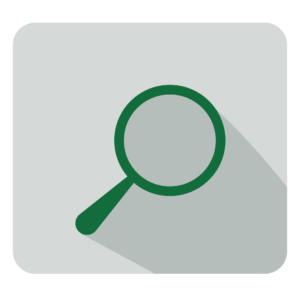 Medical Policy & Research
interACT works with the medical community with the aim of eliminating the human rights violations experienced by individuals with intersex traits. interACT provides consultation and training for medical students, doctors, hospitals, researchers, Institutional Review Boards, and other health care providers on how best to improve care and increase positive health outcomes for this population.
Official interACT Policy on Participation in Research
interACT is eager to collaborate with researchers who are interested in conducting research into issues that matter to our community–people born with variations of sex anatomy, also known as intersex traits–and their families. Our Medical Research and Policy Committee, chaired by Arlene Baratz MD, has identified specific criteria for our collaboration with researchers on the development of high-quality projects.
Information on Intersex Topics
We offer information about informed consent, medical research ethics, and the ethical implications of surgical treatment. We have provided education directly to the medical community including numerous Children's Hospitals and Medical Schools.
Published articles on intersex issues
In addition, interACT staff, particularly founder Anne Tamar-Mattis, regularly publishes pieces on intersex issues in medical, legal, and bioethics journals, including:
Response to NIH SGM Strategic Plan
In 2010, the National Institutes of Health (NIH) commissioned the Institute of Medicine to assess the current state of knowledge about the health of lesbian, gay, bisexual, and transgender (LGBT) people and to identify research gaps and formulate a research agenda that could guide NIH in enhancing and focusing research in this area. The resulting report, The Health of Lesbian, Gay, Bisexual, and Transgender (LGBT) People: Building a Foundation for Better Understanding, was published in 2011. Following the release of the report, NIH initiated several activities to evaluate and advance research on Sexual and Gender Minority populations. This included various forms of outreach to solicit feedback, support of extramural researchers, an analysis of the SGM portfolio to identify areas of opportunity, and the development of a strategic plan for SGM research.
The NIH 2016-2020 Strategic Plan to Advance Research on the Health and Well-being of Sexual and Gender Minorities has now been finalized. The plan is currently out for public comment; interACT (at the time Advocates for Informed Choice) submitted our official response about the proposed goals and objectives outlined in this SGM Strategic Plan.
interACT provides guidance to NICHD regarding intersex medical care
GLMA calls for an end to medically unnecessary nonconsensual surgeries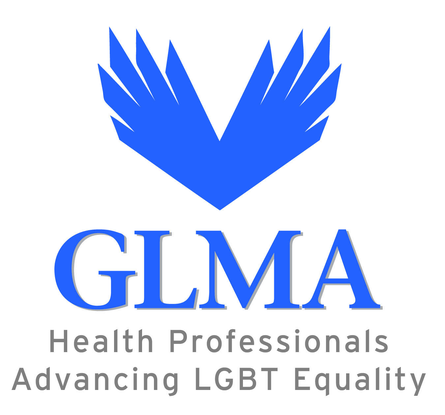 A major US-based medical professional association calls for an end to medically unnecessary nonconsensual surgeries on intersex infants! interACT commends GLMA: Health Professionals Advancing LGBT Equality on its important resolution, not only calling for an end to surgery without consent but also that any facility treating intersex people include "input from mental health specialists, medical and surgical specialists, bioethicists, and community/peer support organizations to deliver comprehensive biopsychosocial treatments that support all patients, their families, and any other caretakers" GLMA was the first medical organization to recognize the needs of this community and they continue to lead the way, thank you GLMA! Read the resolution.
Consensus Statement on the Use of Anesthetic and Sedative Drugs in Infants and Toddlers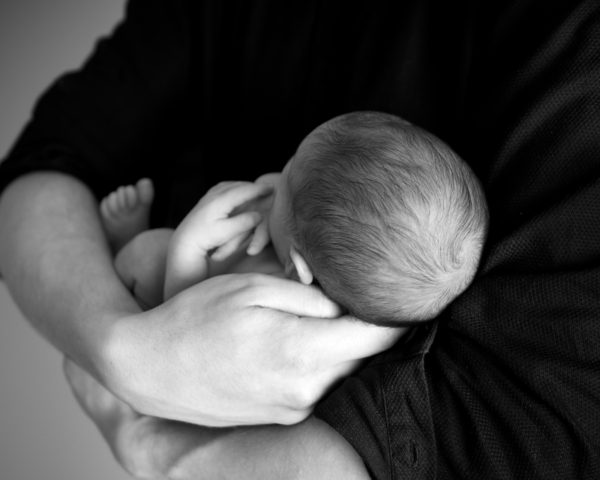 The Food and Drug Administration (FDA) recently issued a highly concerning safety alert, explaining that "repeated or lengthy use of general anesthetic and sedation drugs during surgeries or procedures in children younger than 3 years or in pregnant women during their third trimester may affect the development of children's brains.
Experts now suggest avoiding non-urgent surgical procedures requiring anesthesia children younger than 3. Given that a majority of surgeries performed on intersex infants are medically unnecessary, this new information adds the potential of negative neurological effects to the many existing reasons to delay any medically unnecessary surgery until an intersex child is old enough to participate in the decision.
interACT Medical Policy & Research Committee Board Chair Arlene Baratz, MD echoes recent FDA warning about harmful effect of anesthesia on babies' developing brains
by Arlene B. Baratz, MD
Chair of Medical and Research Policy Committee:
InterACT- Advocates for Intersex Youth
Coordinator of Medical and Research Affairs:
Androgen Insensitivity Syndrome-Differences of Sex Development (AIS-DSD) Support Group. 
Regarding "Anesthesia and Developing Brains — Implications of the FDA Warning" by Andropoulos and Greene, Texas Children's Hospital's policy of careful decision-making regarding anesthesia for children under three, limiting use to "serious or life-threatening congenital conditions for which there are no alternative treatments… for which treatment cannot be delayed" (1) will help the 1 in 2000 healthy babies with intersex traits – differences of sex development (DSD)- who often undergo "normalizing" cosmetic genital surgery to avoid presumed future damage to "individual development, … parents, society and… risk of stigmatization."(2) Emotionally-distressed families are vulnerable to presentations of surgery emphasizing vague harms, while minimizing controversies over timing and well-documented complications including multiple procedures, irreversible gender misassignment, impaired sexual function, and poor cosmesis. (3) Decisional regret often ensues when parents lacking psychoeducational alternatives choose surgery based on medicalized presentations. (4) In my experience as a physician, intersex parent and advocate, families are rarely informed of declarations by World Health Organization and United Nations (5) that unconsented childhood genitoplasty violates children's human rights. We welcome discussions of evidence that genital difference is a threat justifying risks of anesthesia, surgery, and ignoring human rights.
Andropoulos DB, Greene MF. Anesthesia and Developing Brains — Implications of the FDA Warning. New England Journal of Medicine.0(0):null. doi: doi:10.1056/NEJMp1700196. PubMed PMID: 28177852.
Mouriquand PD, Gorduza DB, Gay CL, Meyer-Bahlburg HF, Baker L, Baskin LS, et al. Surgery in disorders of sex development (DSD) with a gender issue: If (why), when, and how? Journal of pediatric urology. 2016;12(3):139-49. doi: 10.1016/j.jpurol.2016.04.001. PubMed PMID: 27132944.
Tamar-Mattis A, Baratz A, Baratz Dalke K, Karkazis K. Emotionally and cognitively informed consent for clinical care for differences of sex development. Psychology & Sexuality. 2013;5(1):44-55. doi: 10.1080/19419899.2013.831215.
Streuli JC, Vayena E, Cavicchia-Balmer Y, Huber J. Shaping parents: impact of contrasting professional counseling on parents' decision making for children with disorders of sex development. The journal of sexual medicine. 2013;10(8):1953-60. doi: 10.1111/jsm.12214. PubMed PMID: 23742202.
Medical and Surgical Intervention of Patients with Differences in Sex
Development [Internet]. 2016; 10/03/2016 [cited 2/21/2017]; [3]. Available from: http://glma.org/
"Normalizing Intersex" – a special edition of the National Inquiry in Bioethics Journal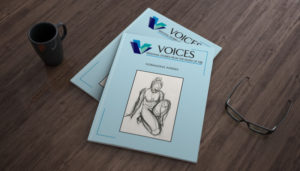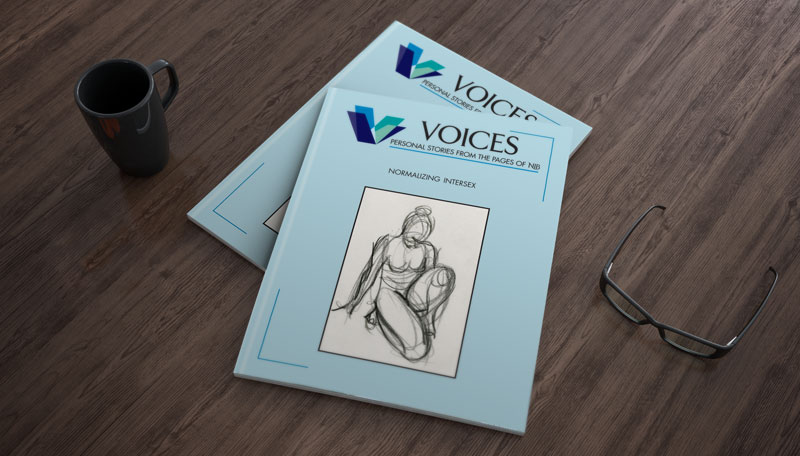 Many interACT staff and board members contributed to the publication of "Normalizing Intersex" – a special edition of the National Inquiry in Bioethics Journal published in partnership with the the Voices projectand made possible by a grant from Open Society Foundations. These experiences shared by intersex people and professionals advocating for intersex awareness will hopefully influence medical discourse and training about the diagnosis of intersex. A study guide for the publication and a podcast with Symposium Editors Georgiann Davis and Ellen K. Feder were also created to aid in further dialogue.
Re-Thinking Genital Surgeries on Intersex Infants

interACT teamed up with The Palm Center to produce this groundbreaking article by three former US Surgeons General taking a stand against non-consensual intersex surgeries.
I Want to Be Like Nature Made Me: Medically Unnecessary Surgeries on Intersex Children in the US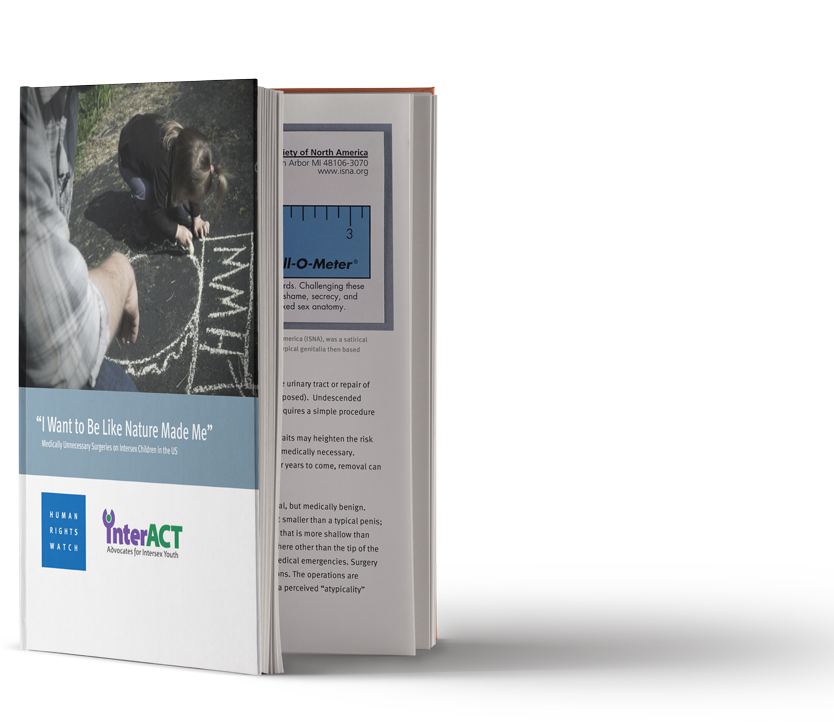 interACT collaborated on a joint report with Human Rights Watch: "'I Want to Be Like Nature Made Me': Medically Unnecessary Surgeries on Intersex Children in the US."
This report was the result of months of in-depth research and interviews with intersex individuals, parents of intersex children, and doctors to uncover the truth about intersex medical care in the United States: the practices and their consequences; what has changed over the decades of international activism; and what still remains to be done.
Unnecessary Surgery on Intersex Children Must Stop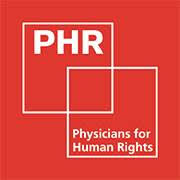 "Physicians for Human Rights calls for an end to all medically unnecessary surgical procedures on intersex children before they are able to give meaningful consent to such surgeries. We also call on the World Health Organization, the World Medical Association, and all relevant national medical associations to issue detailed guidance to their members and constituencies on emerging best practices for the optimal management of the physical and mental health of intersex children and their families. Such guidance must include, specifically, a clear directive to defer medically unnecessary surgeries until an individual can provide informed consent, and to provide psychosocial support for patients and families." Read the Statement
A Changing Paradigm: US Medical Provider Discomfort with Intersex Care Practices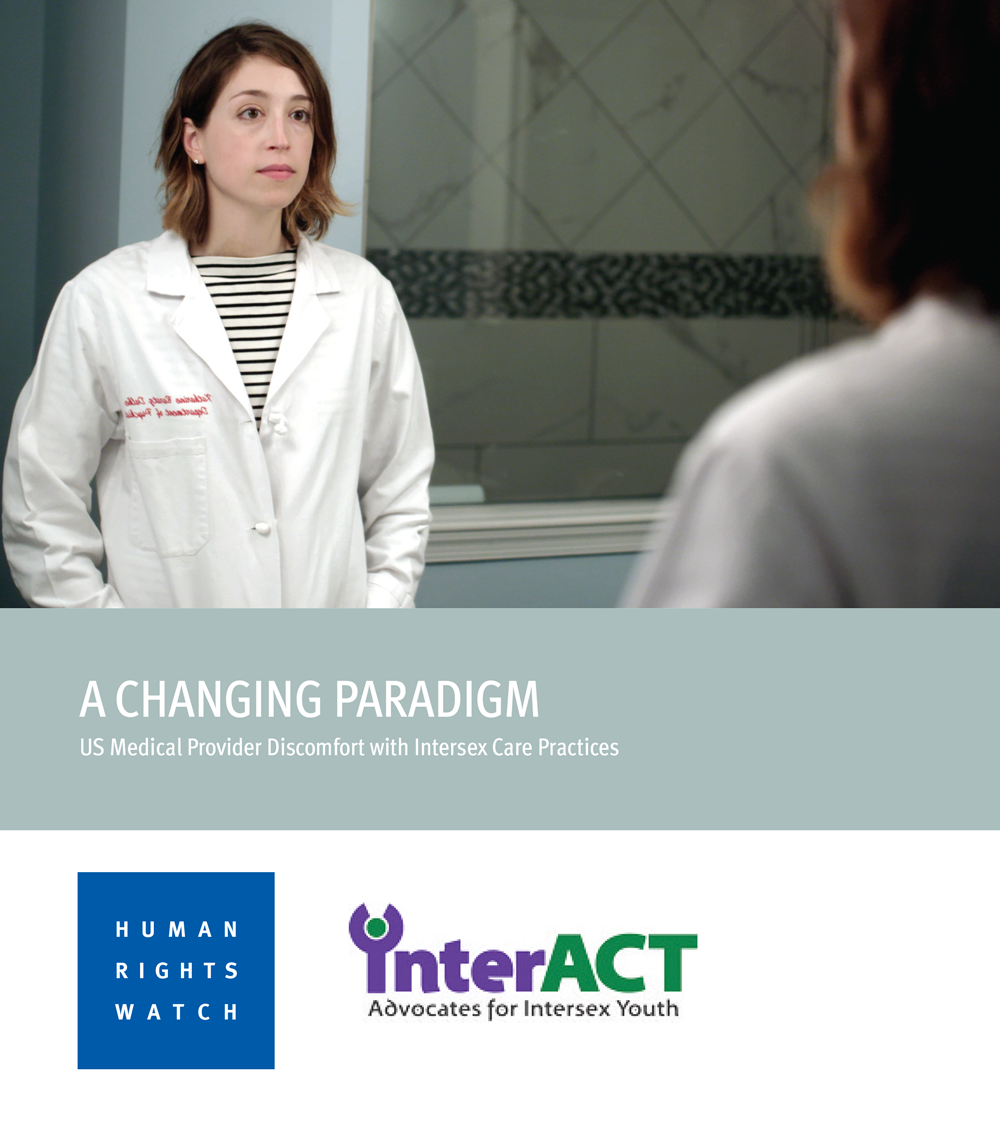 (New York, October 26, 2017) – Medical professional associations should enact standards of care for intersex children that rule out medically unnecessary surgery before patients are old enough to consent, Human Rights Watch and interACT said in a report released today. After decades of controversy in the medical community over the procedures, the lack of centralized care standards allows doctors to continue operating on children's gonads, internal sex organs, and genitals when they are too young to participate in the decision, even though such surgery is dangerous and could be safely deferred.
The 41-page report, "A Changing Paradigm: US Medical Provider Discomfort with Intersex Care Practices," examines the controversy over the operations inside the medical community and the pressure on parents to opt for surgery.
Once called "hermaphrodites" – a term now considered pejorative and outdated, intersex people are not rare, but their needs are widely misunderstood. Based on a medical theory popularized in the 1960s, doctors perform surgery on intersex children – often in infancy – with the stated aim of making it easier for them to grow up "normal." The results are often catastrophic, the supposed benefits are largely unproven, and there are rarely urgent health considerations requiring immediate, irreversible intervention.