Dr. Rachel Levine, President-elect Biden's nominee for Assistant Health Secretary, has been my professional mentor. I know she's a perfect choice for the job. She's also someone with unique opportunities to carry intersex communities' needs forward.

By Katie Baratz Dalke, MD, MBE
Former interACT Board President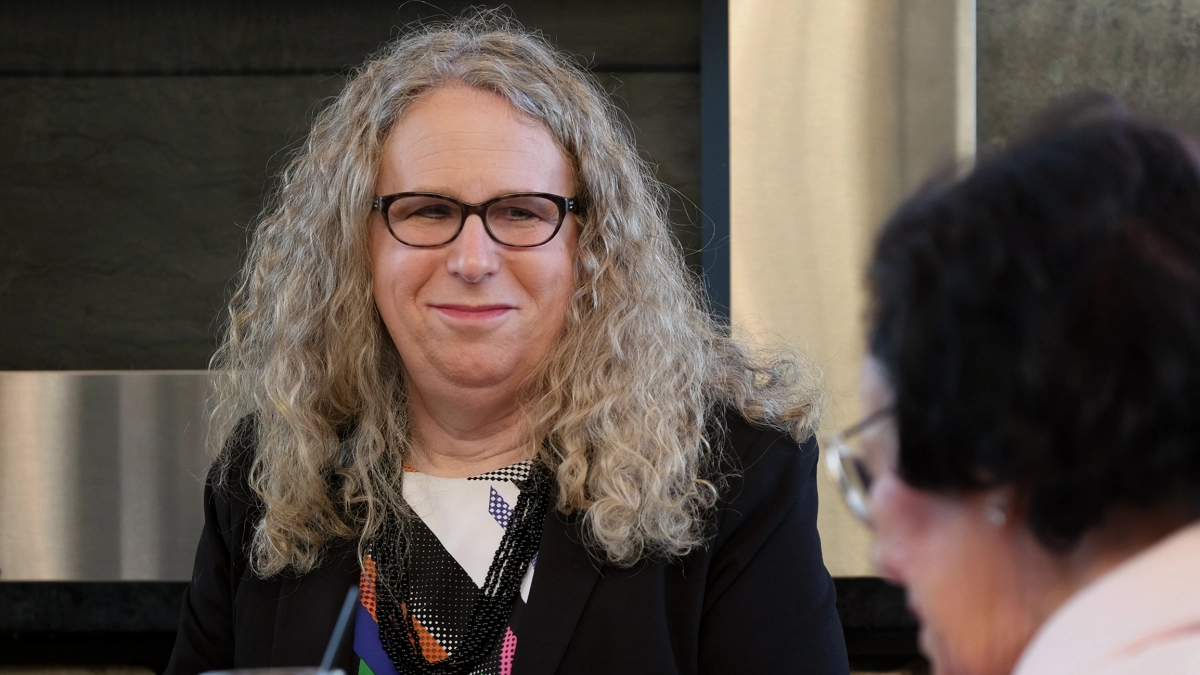 I'm a psychiatrist who's dedicated much of my career to serving transgender, gender non-confirming, and intersex youth. I also bring my own experiences as an intersex woman into my practice. Intersex refers to people like me: the 1-2% of the population born with differences in their reproductive organs, like genitalia or other sex anatomy, and who are often denied choices about major genital surgeries and other potentially unwanted medical interventions.
Waking up to see the news that a mentor of mine in LGBTQI healthcare and policy, Dr. Rachel Levine, was nominated as our country's next Assistant Health Secretary felt like a ray of sunshine. (We could all use more good news!) The Biden administration made a great choice.
Dr. Rachel Levine is hugely qualified. She managed Pennsylvania's responses to the opioid and coronavirus pandemics extremely effectively. She saved countless lives during her time as Pennsylvania's Secretary of Health. Because of her, LGBTQI Pennsylvanians have seen major improvements to their lives and health.
Dr. Levine and I both know that being different is not the same thing as being sick. That knowledge is a strength I wish I could give all healthcare providers and public officials.
I also know that tapping transgender leadership for a presidential appointment is a huge step forward, and I couldn't be more thrilled for my mentor. My colleagues at interACT strongly endorse her appointment.
Transgender and intersex women are both targeted as being disordered, or being wrong. But Dr. Levine and I both know that being different is not the same thing as being sick. That knowledge is a strength I wish I could give all healthcare providers and public officials. That knowledge will help Dr. Levine to fight for so many underserved communities.
Intersex and transgender communities share common issues: while transgender people are fighting for the care they need and want, intersex people are often subjected to irreversible medical interventions in childhood. In both cases, others make major decisions about our bodies. But we need to lead these decisions, and we need inclusive, community-driven healthcare policy. Many laws and policies that are transgender-affirming can easily be amended to include specific attention on intersex issues. This is where Dr. Levine has an opportunity to shine.
Under a new administration, I believe we can finally create federal health initiatives that account for the inequities facing intersex people. (For example, over 40% live with PTSD, and over 80% have changed providers due to offensive language use alone!) We can ensure intersex people receive the healthcare they need, based on care recommendations that already exist. We can make sure that federal data collection accounts for both diverse gender identities, and diverse intersex variations. We can ensure that federal agencies receive education on the needs of intersex populations. Let's bring both transgender and intersex people onto federal advisory boards and commissions.
Dr. Levine would take her new post under Xavier Becerra, the Biden administration's Secretary of Health and Human Services nominee. As the current Attorney General of California, Mr. Becerra met my colleagues at interACT and heard about the issues facing intersex communities. He knows about the issue of genital surgeries such as clitoroplasty being performed on infants in his state. This goes on even after California passed SCR-110 in 2018, encouraging action from the state to give people born with genital differences their own choices. The practice continues even now as the state considers an enforcement bill, SB 225. I hope Mr. Becerra will act on this knowledge and protect young people's bodily autonomy as he steps into his new role.
To Dr. Levine and Attorney General Becerra I say, thank you for your service. Now is also a time for action.
We're not just waiting on California, which could become the first state to take meaningful action toward giving people born with genital differences their own choices in major surgeries. While I urge you to support California's SB 225, you have the power to take even more far-reaching measures at the federal level to support our extremely underserved population.
Sign up for interACT's quarterly emails to get even more news and resources: