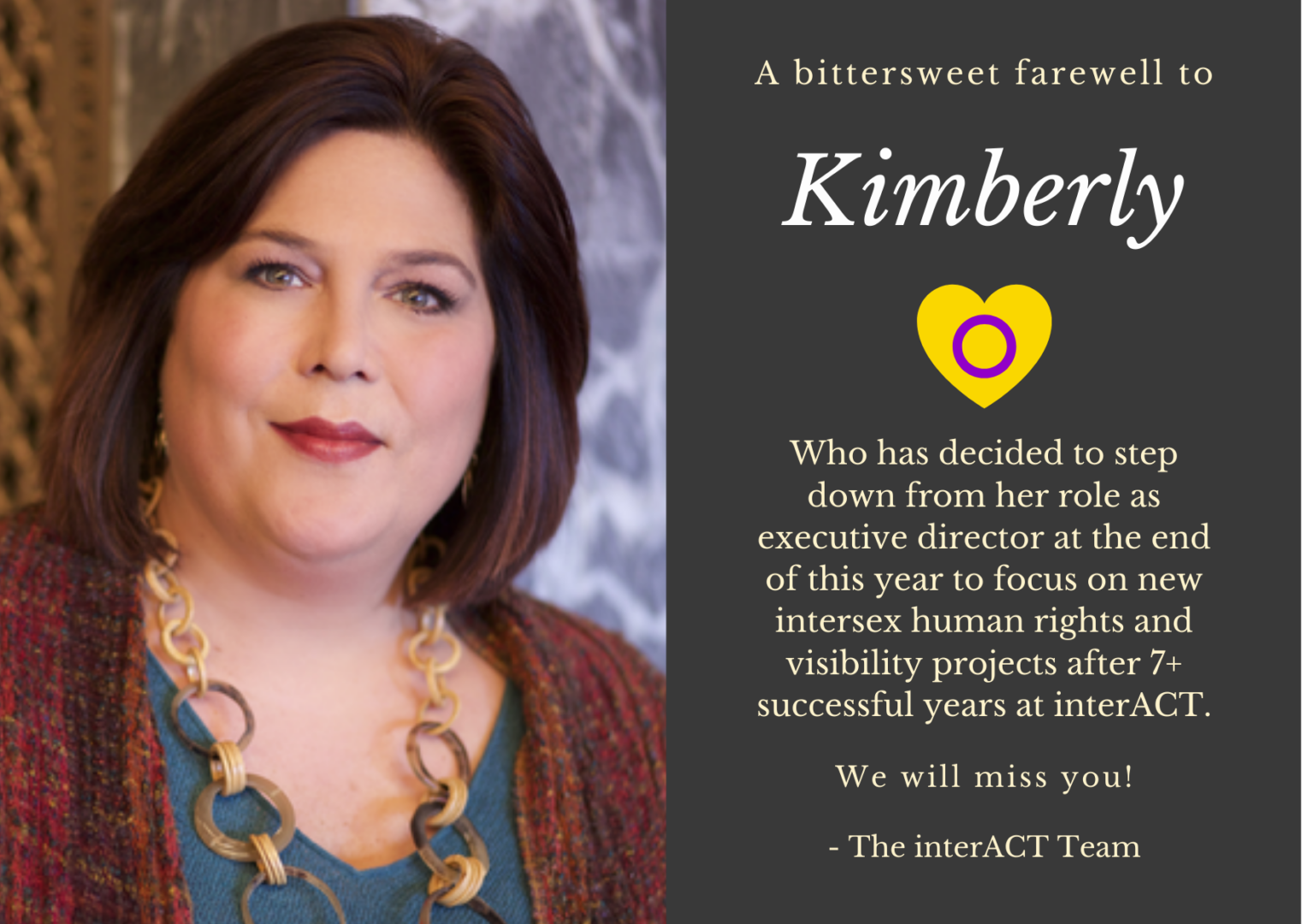 InterACT is changing!  Our long-term Executive Director, Kimberly Zieselman, will be stepping down at the end of the year to pursue new exciting opportunities in the advancement of intersex rights and visibility.  In the coming months, interACT will begin a national search for a new Executive Director to lead the organization. 
During Kimberly's tenure, interACT advanced the rights of children with intersex traits on both a domestic and an international level.  Under her exceptional leadership, interACT greatly expanded litigation and legislation to protect the human rights of people with intersex traits. We also directly improved medical treatment for intersex youth and adults through ensuring intersex-affirming policy within multiple medical associations.  In addition, interACT co-authored best practice guides such as Affirming Care for Intersex People with the National LGBTQIA+ Health Education Center at the Fenway Institute. We also developed and grew new DEI efforts by co-authoring Supporting Intersex Inclusion in the Workplace with Out & Equal and facilitating trainings at multiple Fortune 500 companies. 
One of Kimberly's most impactful contributions has been to dramatically increase intersex representation in entertainment media after shepherding the first intersex character on TV and the first intersex celebrity coming out. "I realized that necessary policy change was not going to happen without changing hearts and minds through greater intersex visibility and broader understanding about the issues we face as individuals, and a community," says Kimberly. "While we still have a long way to go, I've seen tremendous change just in the last few years and I am optimistic about greater visibility in the future."   
While interAct is conducting a search for a new E.D., the organization will be led by Alesdair Ittelson, our current Director of Law and Policy.  Alesdair is a trans and disabled  civil rights lawyer with over a decade of experience and has been leading the interACT law and policy team for the past four years. 
During this transition period, the organization will continue to be guided by key stakeholders–especially the intersex community.  We are grateful for the guidance and support of intersex people along with our allies and donors.  We will continue to look to you for advice and assistance. 
Please join me and the rest of the interACT team in giving a heartfelt thank you to Kimberly for her invaluable leadership and unparalleled commitment.  We wish her all the best in her future endeavors.
Julie Greenberg
President of the Board of Directors of interACT
president@interactadvocates.org